Loop Giveaways, what they are and how to use them
If you participate in an Instagram loop giveaway, you could gain hundreds (or thousands) of new followers in hours.
A Loop Giveaway is a contest on Instagram which incorporates 5-30 brands or influencers that host the contest. You are going to gift someone, in exchange, you will get more followers.
Loop giveaways are so important because lots of people are going to participate, and this will increase the visibility of your page.
Before you participate in one, check out the other brands to make sure they are appropriate and complementary to your brand.
The goal is to maintain these followers long term, not to have them unfollow you right after the giveaway has ended. So make sure the other brands are cohesive to your style.
You want to increase your followers and that's what the loop will do!
If you have been invited to join a loop giveaway, I suggest you join it (if it's relevant to your niche). Hosting a loop giveaway is a lot of work.
Decide what will be given away and find participants
If you are a brand, you can offer a prize and ask some influencers to join your giveaway. In this way, they will gain followers, while you will earn more visibility. Find influencers or other brands that have a similar niche.
Search #loopgiveaway on Instagram and see what other brands have done in the past and also check out their graphics and text too.
If you are an influencer, search for brands and ask for free products, in exchange for visibility.
HOW TO WORK WITH BRANDS TO GIVE YOU STUFF FOR FREE
The more targeted your giveaway is the higher the quality of your participants will be. So, instead of buying an iPad to give away, work with brands to give away something that's aligned with your blog or business.
You need to connect with companies.
Once you identify the companies, start emailing them.
Here is my email template that you can use:
Subject: Looping Giveaway to 1000+ people
Hi [Company],
I'm (your name), I'm creating a Giveaway to my audience (more than 2k followers), plus it will be joined by different influencers.
I LOVE your products and want to help get the word out.
Wanted to get y'all more exposure, for free.
Can you donate [x] in a giveaway that I'll promote out to my audience?
Thanks.
Once you have selected the right brands, you can either reach out to them directly via Direct Messenger or else many brands leave contact information on their profile or website page. I think 5-10 brands is great for your first time hosting.

CREATE BEAUTIFUL IMAGE(S) FOR THE POST
Everyone participating in the Loop Giveaway needs to post the same image. That way it is easy for people to find it, recognize it and complete the loop. You can use Photoshop, Pic Stitch, a collage maker app or Canva. Make sure that all the participants use the same picture!
CONFIRM PARTICIPATION & SEND GIVEAWAY DETAILS EMAIL
Send an email with the instructions to all the participants. You need to say at what time they have to post and which person they should tag. This is very important because if one person forgets to post the image and tag their buddy brand the whole loop will be broken. Also, the text has to be the same for all the participants.
Email everyone an hour before the loop is set to launch to remind them to post. If someone breaks the loop, you should delete the name from the looping.
Here an example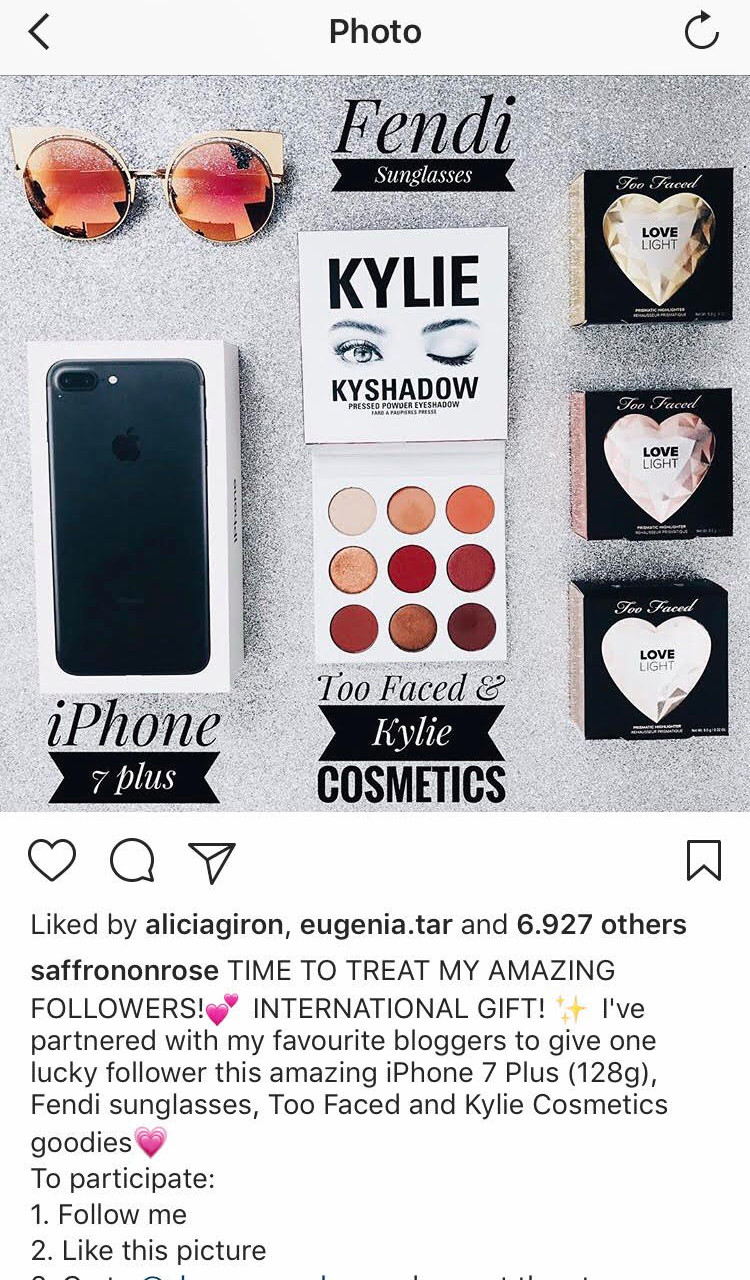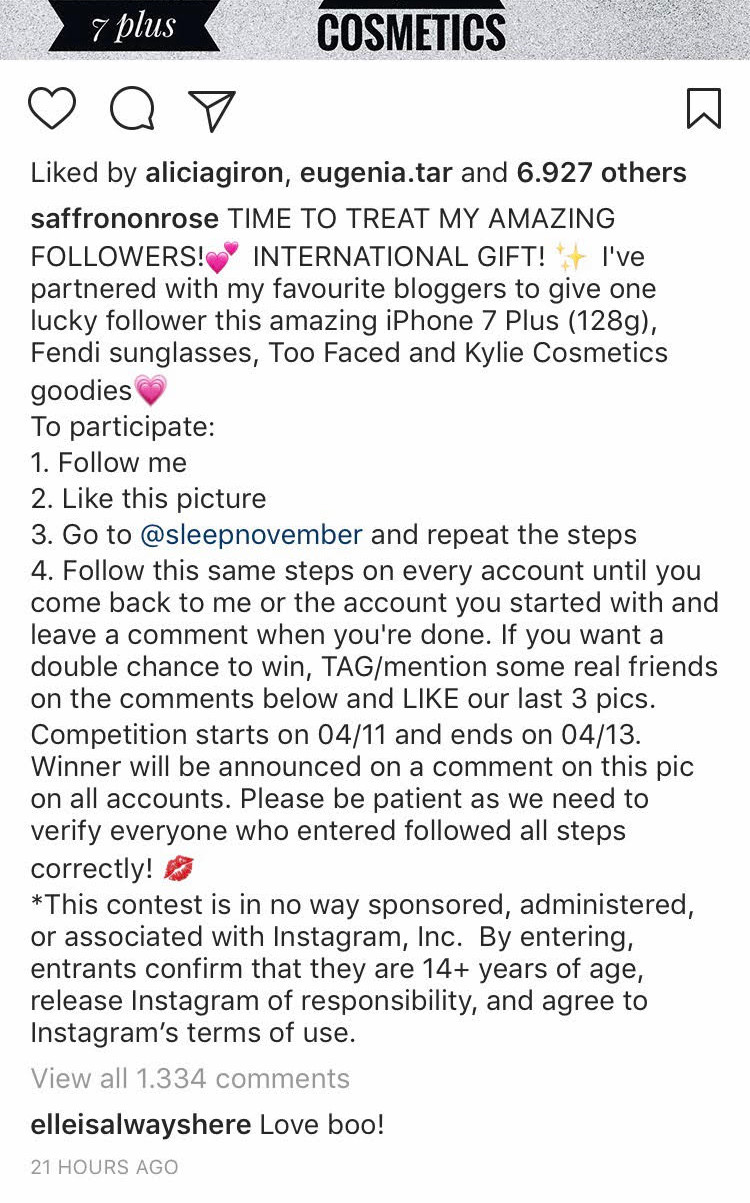 How to enter:
1. Follow me, XXXXX and everyone in this loop.
2. Like this image and comment by tagging a friend.
3. Head over to follow XXXX, the next person in the loop.
4. Keep following the loop until you get back here and then you're done!
All entries will be checked and the winner will be announced on XX/XX!
Who To Tag:
Your Name Your Loop Buddy

ANNOUNCE THE WINNER
Finally, after the conclusion of the loop, you should announce the winner. Check that all the participants have followed the rules.
Then you can use random.org to choose a random number. If it's a joint giveaway you can just announce the winner on your account. I suggest you create a winner giveaway image and tag the winner. In this way, everyone can see that a winner was chosen.
Tell the winner to email you within 24 hours to claim their prize.
TIPS
Keep in mind, after the contest is over you may want to offer 20% off or free shipping or something else to thank your new followers and encourage them to do some shopping! You have all these attentive new people, so make the most of it!